PRODUCT

MACHINE MADE CARPET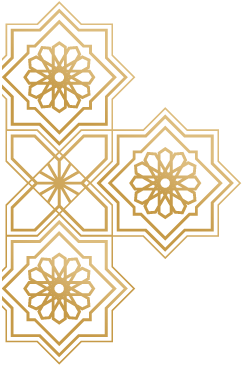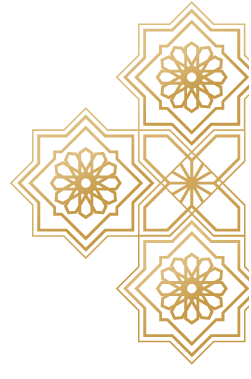 DESCRIPTION

PRODUCT LIST


PRODUCT LIST

DESCRIPTION
Farah's carpets are made from high quality materials

Machine-made Carpets are rugs manufactured using large machines called Electric Looms. Electric Looms are operated using electricity and controlled by a powerful computer. Thousands of threads are incorporated into the state-of-the-art machine which produces carpets with a wide variety of patterns, sizes, colors, and motifs.
Farah's carpets are made from high quality materials such as wool and synthetic fibers such as polypropylene, nylon, acrylic, silk, and many more. Our machine made carpets can stay in prime condition for up to 20 years or more with the proper care and maintenance.
Detailed and Refined Motifs
The technique of knotting and weaving carpets over the years have developed due to the advancement in today's technology. As a result, the designs and motifs of the carpets have become more and more detailed and refined. Nevertheless, carpets are still widely in demand and used as unique art pieces for decorative and flooring purposes.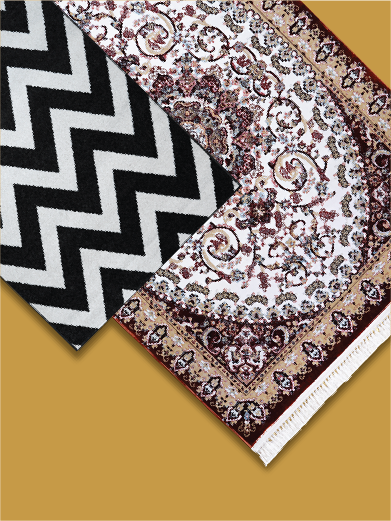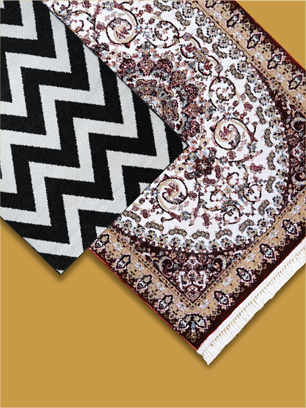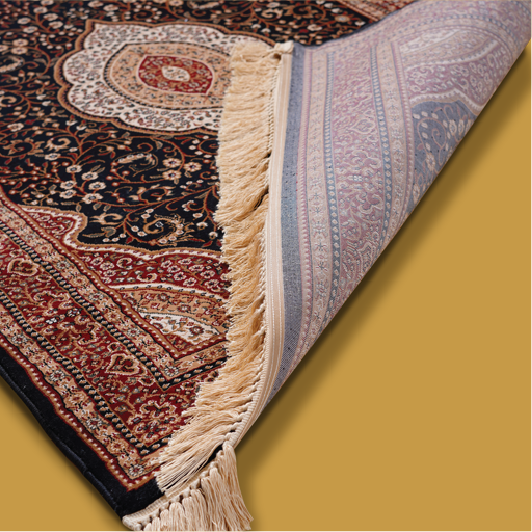 ss
The beginning of machine made carpets can be dated to the 19th century, when industrialism gained momentum and technology allowed rug production to begin. In England, machine-knotted rugs were being produced on a major scale in places such as Axminster and Wilton, which is also the origin of these famous carpet types.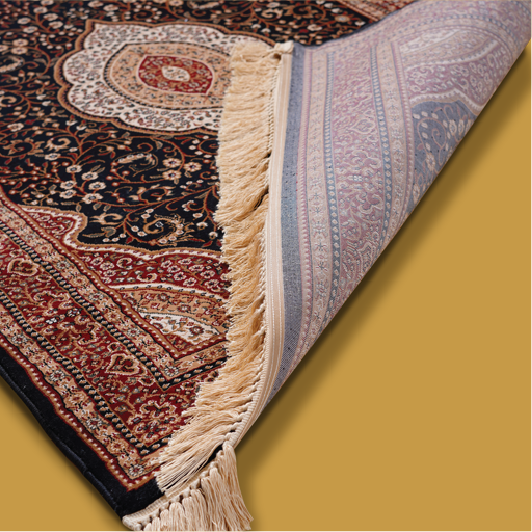 Types
TYPES

Viscose

Viscose is a man-made fibre which is similar to silk and is based on natural materials such as cotton or cellulose. The material is very soft and is therefore an important element in artificial silk (rayon). Viscose material gives the carpet a beautiful shine.

TYPES

Wool

Wool is obtained from sheepskin, but can also come from other animals. Once the wool has been sheared, it is spun on a yarn and then dyed. Wool is a common material found in carpets. It also has a dirt-repelling effect.

TYPES

Synthetic Wool (Polypropylene)

Polypropylene is a chemically produced, environmental friendly mad-made fibre which is a popular material found in today's market. The material has high resistance to wear and can withstand heat well, but at the same time is sensitive towards cold weather.

TYPES

Hand-Tufted Rugs (Gun-Tufted)

Hand-tufted rugs are made by using a tool called a tufting gun. Strands of wool are punched into a canvas which is stretched on a frame that has been imprinted with the overall design. Finishing process include, applying glue, applying protective cloth for the back and trimming the carpet. Hand tufted rugs may not take as much time and effort and hand woven carpets but they are still high quality hand-crafted and unique art pieces. They are great for high traffic areas such as hallways, family room and entryway and can withstand many years of heavy use while maintain their original vibrance. Typically they have a lifespan of up to 12 till 20 years.
PRODUCT LIST
Filter

Design Type
All Type

MACHINE MADE

HAWAIAN ABSTRACT CARPET

MACHINE MADE

TROPICAL ABSTRACT CARPET

MACHINE MADE

ARABIAN PATTERN CARPET